Chrystel Masdupuy
May 14, 2020
News
CLOSED – Cast your vote TODAY in the 2020 EuroCHRIE Elections
---
---
VOTING HAS NOW CLOSED
---
You must be a named & paid-up member of International CHRIE.
We are seeking you to vote for the following positions:
Please review the candidate's biographies and platform statements below and cast your vote. You will be asked for your membership number. Votes will be counted and will be independently verified. Successful candidates will take up their position on Thursday, 23rd July 2020
?️ Voting will end Sunday, 21st June 2020 at 23:59 GMT.
---
---
Vice President
Dr. Henri Kuokkanen is an associate professor  and vice dean of postgraduate programs at Institut Paul Bocuse, with expertise in the fields of corporate social responsibility (CSR) and revenue management. He holds a PhD in CSR from Leeds Beckett University. Henri has been an active EuroCHRIE board member since 2014, starting as the area consultant for Switzerland. In 2015, he was elected as the director of membership. After his two-year term, he was nominated as the interim director of education in 2017, before being elected in the same position in 2018. Active in sharing his research findings at the annual EuroCHRIE conferences, Henri has won the conference best paper award three times, in 2012, 2016 and 2018. He has also organized regional EuroCHRIE events to provide further value to members. Having switched from a business and consulting career to academia in 2008, he has found EuroCHRIE an indispensable platform to network and build experience in hospitality research and education. For him, EuroCHRIE also provides the perfect channel to contribute to the future of the field and support the next generation of hospitality students, educators and researchers.
EuroCHRIE has fantastic potential as a platform for a community that can include and connect. This inclusion concerns all stakeholders of hospitality and tourism education: students, lecturers and instructors, researchers, administrators, industry practitioners and consultants. Inclusion must also reach through the borders of physical location, gender, ethnicity and sexuality. Including all stakeholders also leads to the diversity that characterizes the sector. I have now been involved in the EuroCHRIE board for a number of years, and I believe I have learned much about the needs and wants of our membership. If elected as the EuroCHRIE vice president, I will strive to enhance inclusion in EuroCHRIE and create a community that, together, shares the goals and the passions of the members. 
Member inclusion and diversity links with the broader goal of social and environmental sustainability of EuroCHRIE, which is my other focus area. I would like to develop the community to a direction where we can set a sustainable example both during the annual main conference and throughout the year with our behaviors as individuals and during regional gatherings. For me, setting an example is the best way to lead a change, and the current worldwide crisis offers potential for sustainable change.
Peter manages global operations and leads the training team for our suite of industry-leading training and development programs, which includes business simulation programs focussed on hotel, restaurant and service management. These programs are utilised by both industry and education to deliver training and development across a range of areas including: operations, revenue management and menu engineering.
Peter speaks at hospitality conferences worldwide on the utilisation of technology for learning & development and has also completed the Cornell Certificate in Hotel Revenue Management. He is a member of the International Society of Hotel Consultants, a fellow of the Institute of Travel & Tourism, a member of the Institute of Hospitality and has been an ICHRIE member since 2011. He has also served on the EuroCHRIE board as Industry Director since 2015. 
Peter works to create bespoke simulations, which model environments and test scenarios. These models allow for multiple scenarios to be tested and validated before agreeing on the best route forward. Peter has delivered multiple projects utilising this methodology to examine issues such as hotel feasibility and major event modelling.
Peter delivers technology reviews and consultancy to clients looking to drive their usage of technology and move to more efficient ways of working. Implementing new technology can provide real-world return on investment, which is something Peter is passionate about.
I am grateful to have further opportunity to serve EuroCHRIE, following five years as Industry Director. I have taken a very active role and have attended every EuroCHRIE, ICHRIE and APAC CHRIE conference during this period.
Recently I have taken the lead on delivering webinars as part of EuroCHRIE's response to COVID-19. These have focussed on supporting education and industry. I am well placed to deliver this, due to working with over 200 global hospitality schools and the world's leading hotel groups as Operations Director for Russell Partnership Technology.
Now more than ever, EuroCHRIE must drive forward the way we work with both industry and academia to better support our membership and the value we deliver. This will be my focus if elected. 
We have difficult days ahead as we deal with COVID-19 and the aftermath of this. Education will be a key driver for our combined recovery and EuroCHRIE is perfectly placed to support this. My focus will be on collaboration and innovation to drive forward support across our membership. 
I know that now is the right time to put my name forward to serve as Vice President, as I am passionate about the organisation and ready to serve.
Director of Networking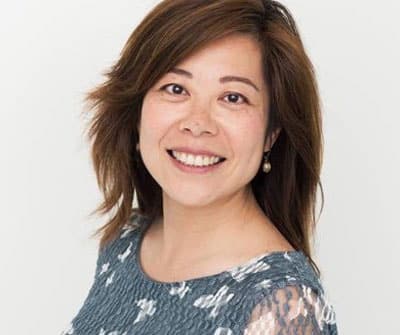 Maggie Feng is a Member of the Board of the Wittenborg University Executive and, is CEO at Wittenborg University of Applied Sciences in Apeldoorn (Headquarter), the Netherlands.
As CEO, Maggie Feng is responsible for Event, Public Relations, Campus Development, Human Resource, Communication, internal Quality Assurance, and Student Support. She is an allrounder in management and is proud to be business-like and practical oriented with focus on the long-term vision.
Next to Apeldoorn, Wittenborg also has campuses in Amsterdam, Munich, and Bad Voslau (close to Vienna). Although small, with more than 1000 Bachelor and Master students in 2019 growth is around 15% per year since 2010, Wittenborg is one of the most international privately funded higher education institutes in the Netherlands. Students and staff at Wittenborg are from over 100 different countries. School of Hospitality & Tourism is the 2nd school next to the School of Business of Wittenborg. With an average between 200 and 300 students, the School of Hospitality & Tourism has been growing steadily.
Originally from Beijing, Maggie grew up in the heart of the Chinese capital, coming to the Netherlands as an exchange student from the Beijing University of Technology back in 1999, to complete her fifth and final year as a Bachelor student at the University of Applied Sciences in Deventer. In 2001, Maggie gained a Master of Science in Facility Management from the University of Greenwich (UK), and in 2002 she joined the team of the then named 'Hogeschool Wittenborg' and successfully transferred this private education institute to what it is today. With the current development of Doctoral College and Research Centre, plus undergoing AACSB and AMBA accreditation, Maggie is determined to lead Wittenborg to become a top-ranking institute to contribute to Human Capital & Talent development.
The Director of Networking position, is vitally important for this group of hardworking and like-minded people to be able to serve the community in the coming years in whatever shape or form. The conference has a true added value to many educators, scholars, researchers, managers, directors of institutes in the hospitality, tourism, even, recreation sector. I would like to take on this role and would like to see a truly sustainable process established with correct recording of institutional memory of this organisation. In another word, I'd like to set up an entire procedure, from definition of conference, expectation as conference host, bidding preparation, bidding guidelines & procedure, contract with host conference, conference website, conference marketing and promotion guideline and including social media package, to conference budget, pricing guideline and all the way to data management… I would like to set a package that all future conference can keep on working and improving however allow pre-defined minimum requirement to be met while letting each host to add their specialities to their conference.
Director of Education
After several years in the industry, both nationally and internationally, Dr Carlbäck is currently dividing his time between lecturing, researching, and programme development at RHS (School of Hospitality, Culinary Art & Meal Science) at Örebro University in Sweden. As Dr Carlbäck for many years has been running several businesses, primarily within the hospitality business, he is still active in business development, not least as a way of making research available to the end users, i.e. the industry and connected stake holders.
The development of a new Hotel Management program at RHS, due to be launched in the autumn of 2019, has given Dr Carlbäck the opportunity to expand his research activities into more educational areas. This together with ongoing research into managerial accounting, business development and entrepreneurship has generated a diverse albeit closely related research platform for the future.
Dr Carlbäck, who holds a PhD from School of Business, Economics and Law at the University of Gothenburg, has served as the Swedish area consultant for EuroCHRIE since 2015.
Even before the current devastating Corona-crisis, recruitment, engagement and retaining of talent were the most pressing challenges for the hospitality industry. How the situation will look post-Corona is extremely hard to predict, but it will most certainly entail the same challenges, albeit in a different, not yet known, format.
Education may not be the sole answer to the industry's difficulties when it comes to talent management in the future, but it could very well be the single most important factor. Better, more relevant, adjusted, and balanced education on all levels, as well as being accepted by both academia and practitioners, could and should provide great opportunities to move forward. The current crises are revealing the dangers of being asset limited – like many hospitality companies – at the same time as the biggest asset, the human capital, is not really part of the equation.
This is, in many ways, a structural global problem. I have recently embarked on several research projects, trying to find ways of bringing education and the industry closer together to be able to develop the industry but not least the human capital side. The most central aspect will be to put a true value on education and a true value on human capital, and EuroCHRIE provides an important platform for this crucial topic. 
Chrystel Masdupuy
Chair of the Nominating Committee
May 14, 2020
---
Last updated on June 27, 2020