Industry
6th Annual EuroCHRIE University Challenge ends in a terrific conclusion!
---
The 6th Annual EuroCHRIE University Challenge, delivered by Russell Partnership Technology in partnership with EuroCHRIE, came to an exciting finish on April 2nd, featuring a record number of nine schools. 
The nine schools competing were Strathmore University (Kenya), Stenden Hotel Management School (South Africa), Stenden Hotel Management School (The Netherlands), The Budapest Business School (Hungary), Modul University (Austria), The Emirates Academy of Hospitality Management (UAE), The University College of Northern Denmark, FHWien der WKW (Austria), and Cph Business Academy (Denmark).
The teams, comprised of four senior students and one instructor, competed in the Simulation Challenge in a competitive set of nine (with one hotel operated by each school).  Each week they formulated strategic actions to drive the position of their hotels in the competitive set, with a focus on Market Performance, Financials, Guest Satisfaction, and Associate Engagement.  The winning team was the hotel with the best overall balanced scorecard at the end of the four-week competition.  
While competing, the students also completed their Certification in Hospitality Business Acumen. This was delivered utilizing on-line learning modules and weekly web conferences.  
This was a very dynamic competition with teams devising different strategies to drive their hotels forward in the competitive set.  At the conclusion of the competition, it was the team from The University College of Northern Denmark who were the winners, with second place going to The Budapest Business School.  
This was, without question, the most competitive event we have delivered.  Mid-way through the competition, the students had to contend with suddenly being required to work from home, away from their teammates and instructor.  The determination and focus each of the 36 students displayed in keeping up with their work and actively participating during the weekly web conferences was nothing short of remarkable.    
When asked for their number one area of learning during the final web conference, the answer Emma from Cph Business Academy provided seemed to sum everything up quite perfectly of what we all need to do during difficult times:
"Our team didn't achieve the numbers during the competition we had hoped for, but we were able to thrive and learn from the difficulties, prioritizing to stay motivated and keep doing our best to reconfigure our strategy."
Sincere congratulations to all involved!  Russell Partnership Technology will be delighted to honor the top two teams at the EuroCHRIE Conference in Aalborg in October. 
---
The Winners
UCN – Denmark
UCN – Winners of EuroCHRIE University Challenge 2020
The Revenue Simulation Challenge was a great way to put theory into practice. We got a different understanding of hospitality management, economics, and both the short- and long-term consequences of our decisions, which will be valuable for us in the future. 
Since we were brought together from different educations within UCN, half of us were strangers before starting the challenge. We had a great time getting to know each other and working together with a common goal and continuously learned a lot from each other. The challenge brought us closer together, and we came out on the other side as friends.
We feel lucky to have been offered this opportunity and are thankful to our team leader Lone, as well as both Heidi and Russell Partnership Technology for this extraordinary experience.
Daniel Lehmann

Elin Arvidsson
Claudiu George Dumitrascu
Michael Pedersen
---
Runners-up
Budapest Business School
Budapest Business School – Runners-up in EuroCHRIE University Challenge 2020
What a wonderful experience! We would like to start by thanking Heidi for her wonderful support and guidance through this amazing journey. This has truly been an experience we will never forget!

Being our first experience at an international competition, there was a mix of excitement and apprehension in the team, however, ultimately, we felt very lucky to be part of it.

It's been interesting to see how the team grew and became stronger, starting from our humble and modest baby steps, where we struggled with the basics, like understanding the links between sections to becoming an assertive team, making confident and decisive decisions for our hotel.

The competition brought new challenges that tested our knowledge and capabilities and gave us a realistic insight into hotel operations. The current circumstances we are living through made the whole process all that more challenging and gave us first-hand experience of resilience and adaptability.

We value this experience and the exposure it has given us and although we just missed a first place, we are happy with our performance, we gave it our best.
Dóra Szécsi

Dorottya Szabó
Helga Schilling
Bettina Szabó
Lili Zita Tóth
Also involved…
Stenden Hotel Management School (Netherlands)
Stenden Hotel Management School (Netherlands)
To sum up our EuroCHRIE experience, we want to say that it's been a tremendous experience for us as individuals but also as a team. We found challenging the EuroCHRIE because of the real-life revenue simulator and playing in a competitive market with other universities around the world. We had a cohesive team; we learn a lot of things from each other and most important we managed to work together. We consider this experience more rewarding for us than usual since we were managing to compete and come up with strategies in these difficult times when social contact is not recommended. We were able to keep the team spirit while staying in isolation which I consider it the ultimate accomplishment we got out of this competition.
Benjamin Marten Ketting

Andrei Bucur
Iris van der Vecht
Pham Việt Anh
---
The Emirates Academy of Hospitality Management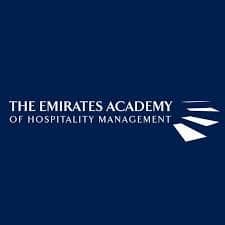 ---
The revenue simulation experience courtesy of the EUROCHRIE Challenge 2020 has been quite the journey for our team. Our knowledge in the field of revenue has amplified, as we put our minds to the test in this practical environment. We came very close to quitting after the first week due to the world pandemic and not being able to see each other because of it. Fortunately, we decided to stay and although we were the underdogs during the first three quarters, we are proud of our 6th place finish. This truly was an experience like no other, and we are grateful to have been a part of it. – Team Casatel
Reeba Asad Amin

Emil Josey
Sana Khan
---
Modul University

---
Being part of the EuroCHRIE Challenge 2020 was an amazing experience. We as a team of 5 people had the honour to represent MODUL University Vienna this year. We managed to make our decisions and come up with a strategy although we had to work from two different countries, from Austria and Switzerland. It was not always easy to find time and space to meet, but we succeeded somehow. We not only learnt a lot about the market dynamics and got a better understanding of the financials, but we also grew together as a team. We are really grateful for this opportunity and we would encourage everyone who is given this chance to take it!
Ophelia Elizabeth Chan

Jennifer Yanyu Hu
Marlies Hiromi Wimmer
Tsz Ki Yau
---
Cph Business Academy

---
Coming into this challenge, our team was very ambitious about our goals – we wanted to continually be in the top half of the competitive set, be amongst the most financially solid and have the highest score in associate engagement.
Did any of that happen? No – not at all. 
So, for our team, this quickly became a challenge focused on maintaining motivation, reevaluating decisions, restructuring our process, and for the team leader (who has a bit of perfectionism in her blood) this was a test of mammoth proportions. 
But, in the end, we have found that there was hidden value in failing so spectacularly at reaching our goals. 
Why? Well, we are definitely never going to let the fear of failure stop us. Even when facing absolute disaster, we have learned that it is possible to re-strategize and adapt, and ultimately, hopefully, succeed in our endeavors.
Joachim V. Jensen

Mads Vang Beier-Simonsen
Alex Fabricius Storm
Emma Cecilie Pax Winther
---
FHWien der WKW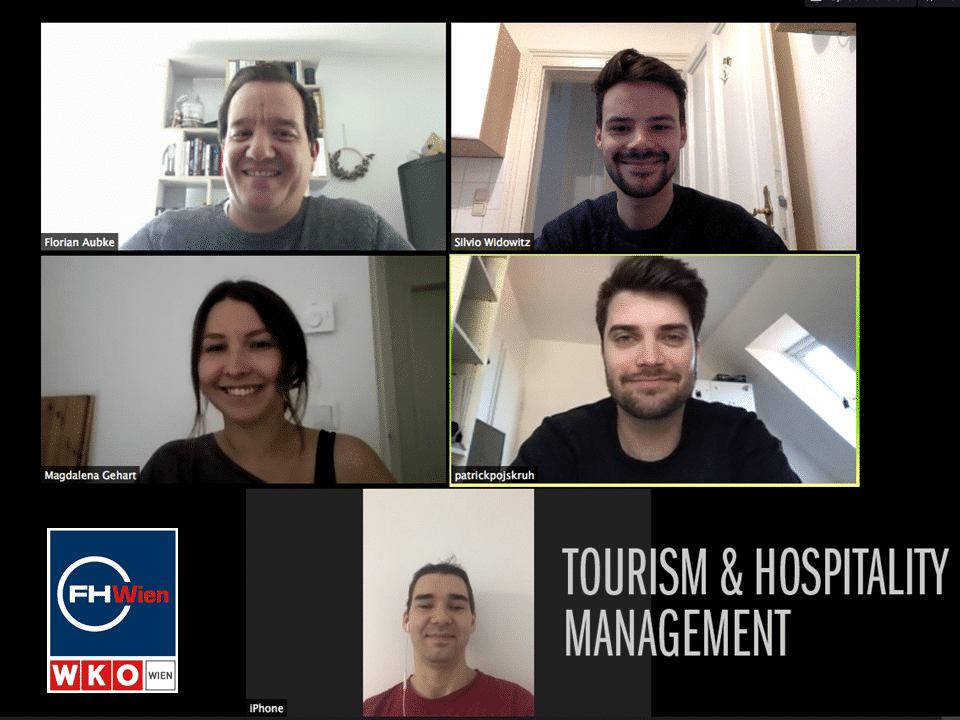 ---
The EuroCHRIE challenge helped us to put the theoretical and practical knowledge we obtained beforehand into a systematic order. After practical experience we gained by working in hotels, the challenge helped to understand the insides of many departments from a managerial point of view and therefore added to the understanding of managerial decision-making. Further, we gained much more holistic view of the hotel's functionality. Finally yet importantly, the internationality of the simulation allowed us to gain confidence in using the professional terminology, which is central for our next career steps.
Magdalena Gehart

Silvio Widowitz
Maksym Byelikov
Patrick Pojškruh
---
Stenden Hotel Management School (South Africa)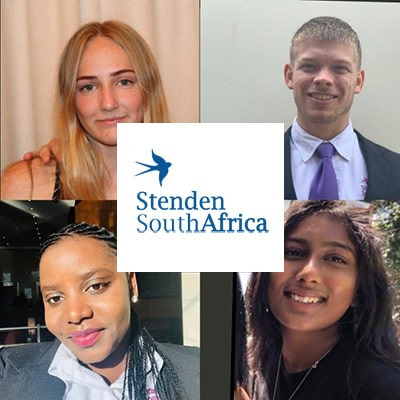 ---
Tenacity, grit, synergy, excellence and perseverance – these are only a few words that sum up the Stenden South Africa team's experience of the EuroCHRIE 2020 challenge. The group members consisted of team mentor and Stenden lecturer; Clare Du Plessis, who provided guidance and calmness, as would a captain at the helm of a ship would do. The members of the team consisted of four students namely: Daynah Singh (South Africa), Carmen Marshall (South Africa), Rukudzo Chakanyuka (Zimbabwe) and Jason Marx (South Africa). This very culturally diverse team represented the ideology of the rainbow nation, as they were tasked of developing and strategizing tactics for a hotel-based simulation. The simulation looked at departments of operation such as: Forecasting for rooms as well as food and beverage, staffing, refurbishments, developments, and marketing. The students were tested on their knowledge, methodology and theories within the revenue management field, which is a specific subject offered at the Stenden South Africa campus; which is essentially based upon the using of the financials of the business to plan for future activities, as well as looking at past and present figures to develop a sound pricing strategy within the hotel. The team, composing of various unique people, littered with diverse backgrounds, came together as one and worked tediously to complete the objective. Lastly, the students during the time of formulating strategies for the simulation, were also presented the opportunity to further their portfolios, by enrolling in an extra certification programme, specializing in Hotel Business Acumen, which all members were successfully able to achieve. We as a team would like to extend or gratitude to Heidi, who was the chief  coordinator of the program, our mentor Clare and as well as the rest of the teams who partook in the competition, as without everyone involved, what was achieved could not be made possible.
Carmen Marshall
Daynah Singh
Rukudzo Alvina Chakanyuka
Jason Christopher Marx
---
Strathmore University
---
The Strathmore University Team of the EuroCHRIE 2020 challenge was a great experience. We were happy to take up the Challenge but having won in two previous challenges set the bar really high. We must say we felt under immense pressure at the start. When we experienced the fierce heat of competition, strangely, we relaxed and really enjoyed the teamwork involved. We realized that in life, involving everybody on board in decision making yields better results and a sense of ownership. It was fun and exciting as the challenge kept us on our toes when making decisions in running the Virtual Hotel, it felt like "The Real Thing". It was one of the best competitions we ever did in College. It put to test everything we learned in Hospitality Management. We are very grateful for the opportunity to participate in the Challenge.
Philip Njeru Mutembei
Lagat Mordecai Momoen
Muyia Stephanie Tracey
Kinyua Amy Idel Mwendwa
---
How to register for 2021
The annual EuroCHRIE University Challenge is offered to teams of students from member colleges and universities.
Registration is easy and is offered on a first-come basis. It is completed by the teams' Instructor/Coach and team member names can be added later. Simply email your name and school name and we will be in contact to answer your questions and complete the registration. Please contact Heidi Anaya, Head of Education, at: heidi.anaya@russellpartnership.com
Please note: Institutions are required to be either institutional or premium members of EuroCHRIE
---